10 Rules for Firing Someone the Right Way
No matter how hard you try, some people just don't work out. Here's how to fire people the right way: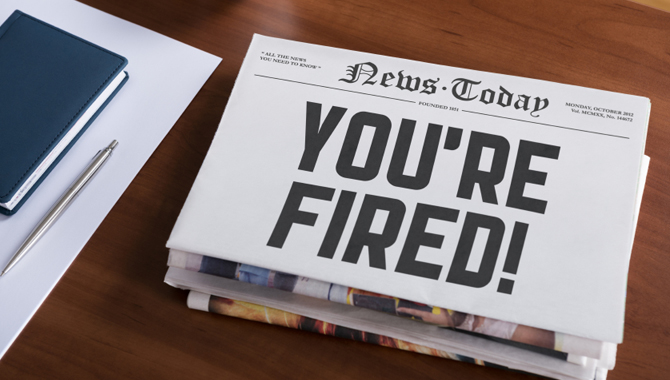 In business life, one of the greatest challenges is having difficult conversations. And for many managers, firing someone is the hardest conversation of them all.
Letting someone go is unpleasant, awkward, and often causes tremendous anxiety. But if you're going to build a great team, you are going to have to do it when it needs to be done.
Determining that people are not fit for their jobs is one of the most wrenching, emotionally draining, and painful decisions that any manager ever has to make. As tough as it can be, firing someone that needs to move on is the right thing for your business and the person you are letting go.
You simply cannot build a great business without a strong team. And that means learning how to let people go. Follow these simple rules to fire people the right way:
1. Know when the time has come. For some team members, providing every bit of coaching and development imaginable simply isn't going to get them to where they need to be. Regardless of the efforts of everyone involved, these people just aren't going to grow fast enough to keep up. Do everything possible to help people to grow along with the company. But when it becomes obvious that someone can't keep up or isn't a good fit, it's better for everyone involved to move on.
2. Have everything in order. Firing someone should be the last step in a transparent, fair, and structured process that began well before the actual act: Identify the performance problem; discuss the issue with the employee; lay out a plan for performance improvement, provide coaching and additional training; and continually offer feedback – and document every step in writing. Documentation protects you and your business. Don't be tempted to fire someone without a solid paper trail. Under almost no circumstances, should an employee ever be surprised to get fired. Start documenting today and follow the process. It's your fault if there isn't enough written documentation to let someone go.
3. Don't drag it out. Once you've determined that a person needs to be fired, don't delay the inevitable. If you have everything documented, there is no reason to drag your feet. It's not necessary to wait for something to trigger the firing. Waiting only increases the chances of a needlessly messy departure, which is traumatic for the employee and for you. Don't be slow to take action when it comes to under-performing team members.
4. Be Prepared. Firing an employee is uncomfortable for most managers – practice first. Keep it simple. You may be nervous and tempted to talk a lot. Avoid that temptation. Start with something like this: "Karen, I'm letting you go." Skip the fluff. If you've done your job and followed the process, Karen knows why she is getting fired.
5. Don't do it alone. Have someone else in the room to witness what is said. This eliminates any risk that the person being fired claims things were said or promised that weren't. In most cases, the third person in the room should be an HR person. HR people have more experience, than most managers, when it comes to firing employees and they can help keep the termination on track. Even if it feels awkward, you need a third party to help protect you and your company.
6. Get to the point. Don't beat around the bush and use phrases like "We've decided to make a change" or "replace you" or "terminate you." There should be absolutely no doubt in the employee's mind that you are firing them. Tell him you are letting him go as clearly and concisely as possible. And do it quickly to avoid any misunderstandings and awkwardness. Don't sugarcoat the news so that the conversation is easier on you. It's a big mistake to try to protect the employee's feelings. It's even worse to try to protect your own – your feelings are irrelevant. Get to the point and be professional.
7. Maintain control. Losing a job is a stressful event, and your employee may show a range of emotions, which she might direct at you. Anger, frustration, disappointment, or blame will only inflame the situation. Don't allow yourself to get drawn into an argument by going back and forth. Sometimes, people need to vent their frustrations – just listen – don't feel like you have to respond. Let them know that nothing they can say will change the decision. The more you react, the greater the chance that you will say something you might regret later. Be professional, be compassionate, and stick to the facts.
8. Be consistent. When it comes to firing employees everyone in the organization must be held to the same standards. Friends and family are no exception. Keep in mind that every personnel decision you make sets a precedent. There can't be a different set of rules for people you know well or personally like. Develop a strong set of guidelines for dealing with performance issues and follow them. Consider the consequences of all exceptions – before you make them.
9. Know your stuff. Be prepared to address the administrative concerns a person will have after being dismissed from a job. There will be questions about severance, benefits, final paychecks, or other details. These are all things you should have prepared for – in advance. Getting fired is bad enough; sitting around while you try to figure out the next steps is awkward for a person that just wants to leave. If HR or others are involved in the process, make sure they are available immediately. Once you've let someone go, let them go. Never make someone you just fired wait around for answers.
10. Don't pass the buck. No one likes being let go by their boss, much less by someone in HR or anyone else. Never delegate your "dirty work." You will lose the respect of the people being fired, and the people cleaning up your mess. And eventually it will become clear to everyone on your team that you won't deal with difficult issues – and then you will lose their respect too.
Bonus: Don't forget about your team. Without violating any confidentiality, you need to talk to your team about the situation – as soon as possible. They may or may not understand the decision. Either way, you should be sensitive to their feelings, discuss what the decision means to the team, and help them move on.
Firing someone is one of the most difficult tasks a manager will ever face. And for some the anxiety never disappears. What's important is being able to do it when it's necessary, and to do it the right way.
Do you have other rules you would like to share?